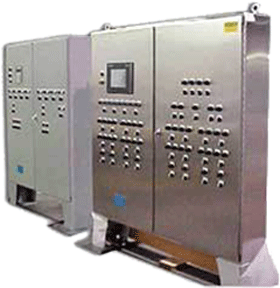 AC/DC Drive Control panels have applications in most of the factories and industries where there is a large scale use of immense electricity or power. These are purposefully installed where large power supply is required for saving and judicious use. These devices found extensive use in process control applications in industries like Sugar Industry, Food Industry, Chemical Industry & Pumping Applications, Paper Industry, and Cement Industry. These unique drive panels are used to monitor and control machines while performing different site operations.
FEATURES
Lower Consumption of Energy.
Comes in customised specifications without competitive industrial prices.
Electrical and magnetic insulation provided with durable finish standards.
No chances of disturbances or malfunctioning while the operation or execution.
Strictly adhered to quality standards specified by respective governing bodies.
ADVANTAGES
Easy to execute and operate ensures user safety.
Saves a lot of power, money and resource in long run.
The ease of handling and maintenance makes it least troublesome.