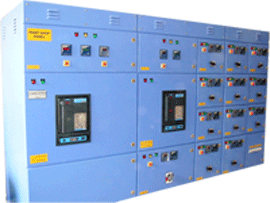 Power Control Center has been manufacturing with an emphasis on Controlling the Voltage and Reactive Power. Power Control Systems needs a highly qualified and trained technical staff for the complex panel building activities.
Applications
Meet critical business objective.
Increases power reliability at every stage.
Judiciously controls energy cost.
Automatic selection of available utility in efficient manner.
Control peak demand levels.
Fast acting control sophisticated systems.
Protection Against Fault
Features
Lower the Energy Consumption.
Short Circuit Protection.
Overload Protection.
Equipment Protection.
Warning alerts of visible and audible motor overheat.
Benefits
Isolation Against Fault.
Full value of money.
Minimized the Shutdown.
Improved work condition.