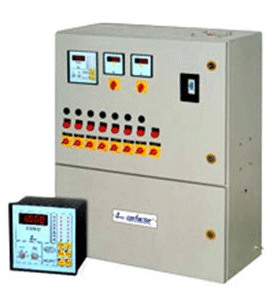 The ratio of active power to apparent power is power factor and improvement of this unit is done by Automatic Power Factor Control. It can effectively and judicially change as well manages loads with high power retention automatically. Very important source of saving electrical consumption ensuring a lot benefit in business. Real handy these APFC panels in this period expensive and scarce electricity and it become quite necessary to cut down expenditure with these panels.
Our APFC Panel are testaments of quality, efficiency and reliability. From different current ratings to cater to distinct applications, these are available for you as per your needs. Large electrical installations with huge load are indispensable of use of these APFC panels. Because power factor loss can cause operational stumbling blocks and mess.
These Automatic Power Factor Panels have applications in Windmills, electrical installations, line voltage analysis, harmonics of monitoring current, micro processors and process controllers. The detrimental effect of current is avoided through these panels and energy is conserved. The line losses are reduced by long capacitor life and also, give longer life to conductors. Wide range of these Automatic Power Factor Control panels is provided by us.
The main features of our control panels are:
Maintains gigantic Power Factor constantly in High efficiency.
Independent fuses are in-built with modular construction.
Excess power in system is prevented and also, prevents the even leading Power Factor in low load critical conditions.
Easy to operate with marked buttons and indicators clearly.
Minimizes harmonic current and give protection to electrical equipments.
Easy to use and long lasting too.
Corrosion-resistant with electrical insulation.