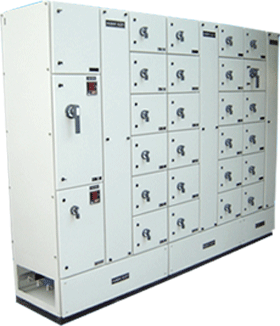 Motor controlling centres panel specially designed in view of an electric motor working parameters and thus serve a specific need of controlling electric motor. The widely demanded product has applications in various industries like chemical refineries, industries of pharmaceuticals, textiles, building construction, paper and so on other industries. Motor control centres (MCCs) occupy a prominent role in different schemes of control and management, a comprehensive array of control and monitoring housed aimed at increasing the comfort level.
Features of our MCC Panels are:
High grade raw material built.
Sturdy and corrosion resistant.
Standard as well as customized sizes fabricated.
Completing all the diversified requirements of clients.
Designed and manufactured compatible to advanced technology.
Benefits of MCC Panels are:
Uniquely stand in international markets.
Lower cost quicker installation.
Low in Maintenance.
Expandability of sections and units.
Reduced planning and rearranging downtime.
Higher level of safety.
Serviceable and faster delivery.
Minimized overall costs with enhance productivity.