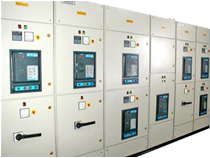 The Power distribution board of an electric supply system divides and spread power feed into secondary circuits along with providing a Protection which acts as a circuit breaker in each different circuit. It contains main switch And Outgoing Switch which incorporated devices Like Over current protection and Earthfault Protection.Its provide protection from Fault and Save equipments also. Even if you are not aware of these technological complexities we assure you of quality and superiority with our name associated. We do full justice with the faith our customers show on us and to our products. For most of industrial or commercial and household installations we have a capable product range..
Advantages of Our Power Distribution Boards
Available compact size and quality.
Install, inspect, execute & maintain easily.
Modular design and compatible with latest technology
We are providing ratings of wide range.
Assured Trouble free control and operation.
Isolate the Faulty System
Features
Performance completely value quality and money.
Well organised robust construction.
A much longer working life.
Guaranteed safety of use.
Important industrial applications.