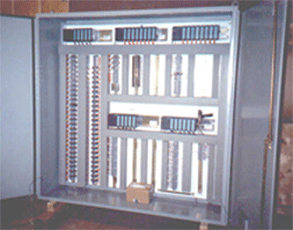 Features:
The manufacturing machinery is controlled by using PLC panels one that is used to house programmable logic control processor. Limit switches, Proximity detectors, Push buttons e.t.c are wired to input cards. A PLC programmer will design a logic flow for the program using the input devices to trigger output devices depending on the logic of the Program.
High durability and low maintenance.
Robust, sturdy construction with excellent performance
Perfect finish and long service life.
Benefits:
Flexibility runs.
Correcting errors and cost effective.
Space efficient.
Visual observation.
Can be tested, validated and corrected as per need.
Saving valuable time and resource.